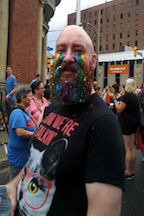 Guts. You gotta admire guts. That's what I was thinking as I wandered through yesterday's Capital Pride Parade on Bank Street.
It was my first Capital Pride Parade and it won't be my last. I'll be making a point of attending each year from now on to show my support for Ottawa's LGBT community.
Really, it should be a no-brainer. Like, why would anyone have a problem with LGBTs?
Despite some rainy moments, it was a great parade. Young, old, tall, short, small, big. Black, brown and white skins. Straight couples,  LGBT couples,  drag queens. Children, dogs and babies. Political parties, banks, the fire department, businesses. People in wheelchairs, on crutches, or walking with a cane. Police on Segways, people rollerblading. Balloons and lots of rainbows. Happy people having fun, celebrating all that is right with our community.
There were a few what I would call unusual outfits. To the woman wandering around in black leather with a horse's bit between her teeth, worldly me: "So, are you wearing that outfit to advertise the fact that you're into S&M?" Answer: "Yes. We're here celebrating diversity," she said. "That's what I'm doing." Huh. And I thought I was a nervy broad! Ha.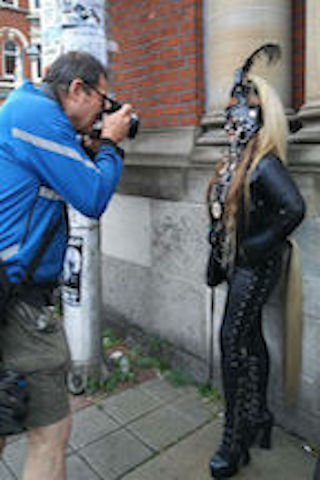 I loved the man with freckly skin, pink hair and a smile that radiated happiness and contentment. He had a little boy in a stroller sporting a  patch of matching pink on his golden locks. They posed for a picture but damn, it didn't show up on my camera in the end.
I do admit to feeling a twinge at the sight of a young man in an open shirt sporting scars indicating the removal of breasts. It seems like such a drastic assault on the body. It is, however, his body. Who am I to judge?
"You don't mind me going do you?" I said to my husband as he dropped me off at the Bank Street barricade. "Of course not," he said, "just keep all of your clothes on, will you? I'd rather not see any topless pictures splayed across the town."
Have no fear, my dear. I'll just live vicariously through these wonderfully, brave, bold and brazen people and be proud and happy that we live in a free society where everyone is accepted for who they are. As they should be.

Click to print