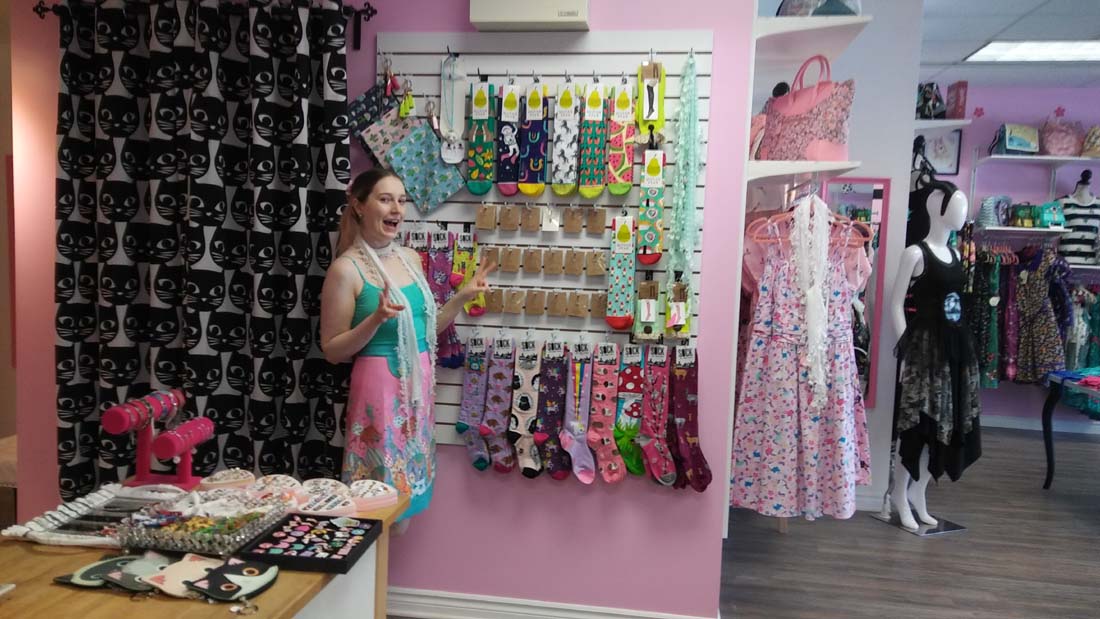 Whimsy is the order of the day 
It was the dress in the window with the red hearts that caught my eye. A neon light blazing my name with an arrow pointing to the door couldn't have done a better job.
This was a store for me!
It did not disappoint. I felt like I was stepping into a candy store. 
All Dolled Up
 was awash in pretty pinks, sky blues, happy yellows and rosy reds, all complemented by bubblegum pink walls. Dresses, skirts, blouses and wraps…all smattered with sweet little creatures like unicorns, ladybugs, hedgehogs, foxes and many more.
The young store owner behind the counter, Jessica Fraser, seemed shy at first. But it's possible I bowled her over with my enthusiasm and the myriad of questions that followed (it wouldn't be the first time).
How long has the store been open? (Five weeks.) How old are you? (28.)  Wow. Really? Good for you. What prompted you to open the store? (I've always been in retail and felt Ottawa needed a store like this.) Where are these clothes made? (LA, the United Kingdom, Poland, Korea and, yes, some are made in China).
I zipped through the racks feeling the fabric, admiring the styles and designs and, of course, examining the prices. Very reasonable. Jessica also carries silky scarves, flowered purses, wallets, earrings and lottsa socks, many with cats. Items range from $6 to $120, with the average clothing price coming in around $50.
I did hold a short little flare skirt with an elastic band to my waist. Hmmm… Maybe. Or not. (Elastic band, absolutely. Short and flared…not so much). The dress with the red hearts? Could I pull that off? Too young? The hell! Who cares about that? But it did seem a bit flashy for my conservative taste (solids and blacks are me! Wouldn't want to stand out too much!) I decided no, but now might go back. After all, it probably won't fit and that'll be that.
The store is geared to a slightly younger crowd than mine (like by about 40 years). But that never stopped me and it shouldn't stop you. In my books, whimsy is always in style. 254 Dalhousie Street, west side of the street between St. Patrick and Murray streets.